A Kalamazoo wine distributor's mission to save a great grape
ZINTA AISTARS | THURSDAY, JANUARY 10, 2013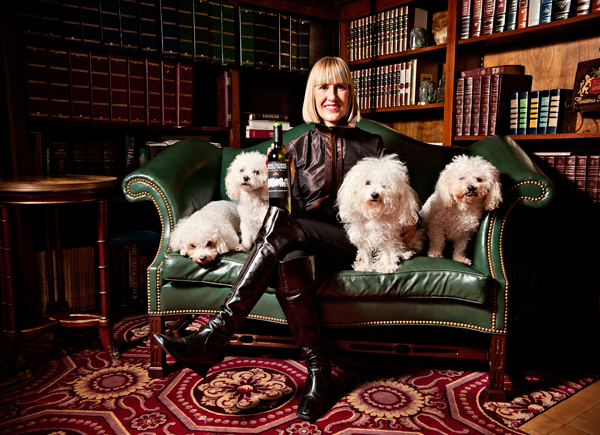 CHRISTINE SKANDIS, FOUNDER OF SKANDIS FINE WINES – ERIK HOLLADAY
She founded Skandis Fine Wines, LLC, an importer and distributor of fine wines, to help keep alive heirloom grapes that may otherwise have turned to vineyard dust by now. Generally unknown and grown in Italy in limited quantities, these delicate grape varietals such as Erbaluce, Aglianico, Negroamaro, Nero di Troia, Falanghina, Malvasia, Bombino, to name a few, risk being torn out of the vineyards and replaced by better known and therefore faster-selling grapes, such as Chardonnay and Cabernet, to sustain the economic need of the small communities that grow them.
"I started Skandis Fine Wines to preserve these 2,000-year-old heirloom grapes," says Skandis. A member of the Tasters Guild, a nationwide society of food and wine enthusiasts, she was frustrated "that everyone was always serving the same old wines. I wanted to educate people about a different kind of wine."
To find the unusual rather than the ordinary, Skandis took a trip to Italy, the first of many, and visited the regions of Piedmont, Puglia, and Trentino. She found more than heirloom grapes there–she found communities that welcomed her with open arms.
"I spend a week, and I harvest grapes along with everyone else," says Skandis. "I go to Italy because I need to walk this soil, I need to see these people. People carry wicker baskets on their backs for the grapes, and everyone in the community picks the grapes. They take you under their wing and take you home like family."
With her now biannual return trips, Skandis is welcomed into the homes of the residents. They bring their newborn children to her to show them off, she says, and with much the same loving care, they may bring her a sample of grapevines, hundreds of years old, for her inspection and admiration.
The main grape found in Skandis' wine portfolio, Erbaluce, is quickly being recognized as one of the most premier wine grapes in the world. Found in the Piedmont region, North of Torino, Italy, this grape was once enjoyed by Julius Caesar.
"Light and crisp with a masterful blend of citrus and floral aromas, Erbaluce is a favorite at tastings," says Skandis with obvious pride.
Skandis knows her wines. She was inducted into the Dionysian Society International in 2006, the world's oldest wine society, making her one of only six female members in the world. "It's very unique," she says, "sitting in a boardroom with all these businessmen, the sellers …" She smiles, shrugs, undeterred from her grape mission.
Educating the wine taster is her mission, and the wine taster is–you. Not just the expert, the connoisseur, but anyone and everyone. Skandis Fine Wines run about $30 to $45 per bottle, so a bottle may not be for every evening, but surely when family and friends gather for a special occasion.
"Like a beautiful sunset, a fine wine is better shared," Skandis says. "People can be intimidated about ordering from a wine list when they don't know a wine. If they're not familiar with it, or they don't know how to pronounce it, they won't try it."
Skandis gave that reluctance a great deal of thought. To each wine label, she has added a phonetic pronunciation of the wine's name. She added a couple short sentences about the flavors of the wine and its history. She is preparing icons that can be scanned on the label that enable the wine drinker to visit a website and learn more.
"I also realized that people are more comfortable trying new wines at home," Skandis says. Going for the comfort, she started organizing home wine tastings. In their own nesting ground and among friends, people enjoy trying Skandis Fine Wines while listening to Skandis, or the "wine guru" as some have come to call her, talk about the history of each wine, telling the story behind the grapes, answering questions, offering suggestions about pairings with food.
"Have an adventure!" Skandis raises a glass. "Open your mind, experience these flavors! Life is about taking a journey." And her wines, she says, is one way of doing just that. As people sip and discuss and sample, Skandis talks about what it takes to create her wines. Not just the ancient grape adored by ancient gods, but the arid climate of the vineyards, the salt of the sea nearby, the effects of the volcano in the region, the exact combinations of soils.
"I watched a taster swirl his wine in his glass at a tasting, and he said it brought him back to his childhood." That's what it is all about, Skandis says, the total experience. Tastings breed familiarity, familiarity creates the bond, and from that bond is born a new favorite. Hand that taster a wine list in a restaurant, and the Skandis wine pops out.
Taking the wine tasting one step further, Skandis currently works with area chefs and a culinary school to teach how to pair wines with food, one complementing the other, and she is finishing up the first of many books she intends to write about wine. More wine tastings are planned for groups of alumni at various universities, with a recent such gathering at Yale University.
In the comfort of her own home, the same residence in the South Street Historic District of Kalamazoo where William Upjohn, founder of the Upjohn Pharmaceutical Company, lived with his family in 1905, Skandis only smiles when asked to choose a favorite wine. She relents only so far as to say that among her "children," her first is the Erbaluce, that most delicate heirloom grape appreciated by gods and mortals both.
"Ten percent of the proceeds of my wines are donated to local animal shelters," she says among Bichon Frisé licks and yips. If a wine is sold in New York, for instance, the proceeds will go to the animal shelter there.
And so, not only are the ancient gods satisfied, along with mere mortals, but their divine pups, too.